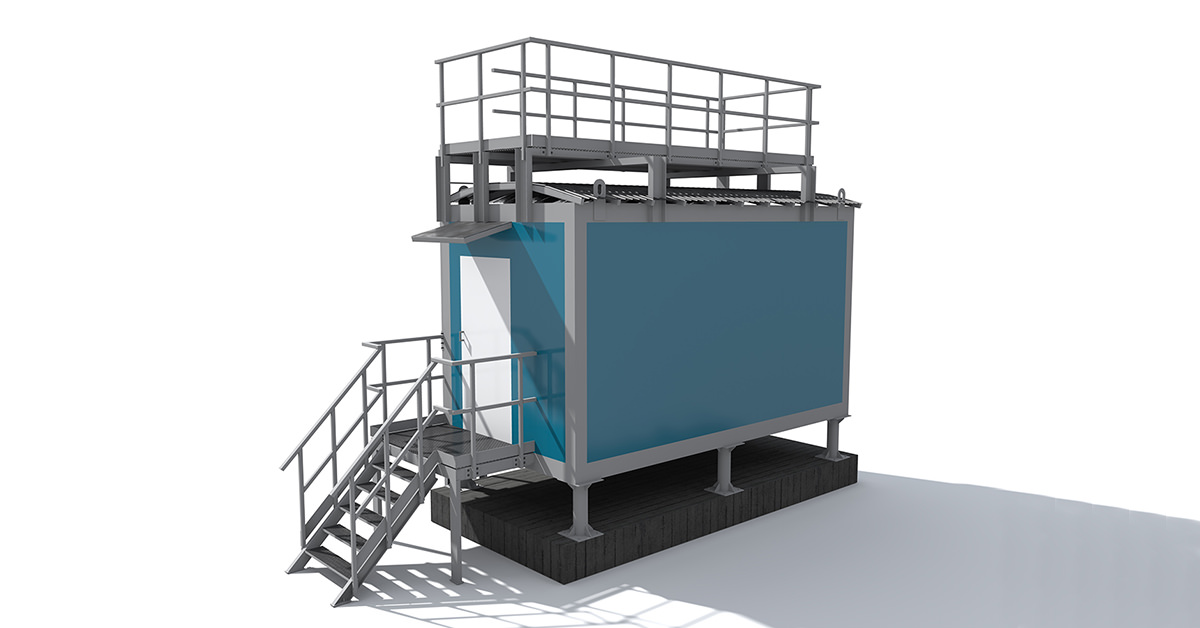 Unlike a storage tent or a lightweight hall, containers have a precisely defined size – therefore they can be stacked and offer a different look.
Our product range offers all typical containers as well as customizable solutions which can be configured to meet your demands.
Storage containers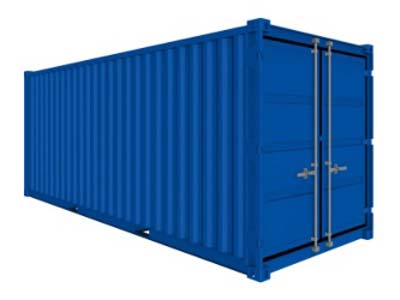 Storage containers can not only be used as short- and long-term storage solutions for craftsmen, industry and medium-sized businesses, but also for additional storage wherever it is needed: in the garden (e.g. as tool shed) or for tyre storage, which – depending on the size of the vehicle fleet – can be a worthwhile solution. Another typical field of use for containers is the storing of tools at building sites; for these applications, we recommend to have a look at our additional equipment package "security & monitoring".
Equipment options
Electrical equipment
Wood or steel floor
Steel door and window fittings
Security package (lockable, video camera, GPS tracking)
3-fold stackable
Table of sizes

Sanitary containers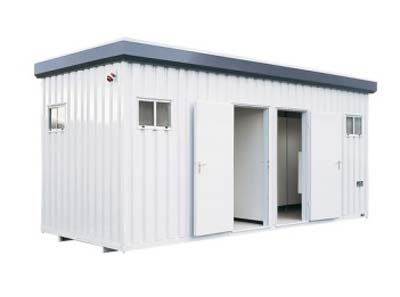 Sanitary containers do not reveal what is happening inside… They are easy to set up on construction sites, trade fairs, markets or events and are usually equipped with WC, urinal and of course washbasins.
Whereas our rental sanitary containers are only available in a standard version, the ones for sale can be individually designed according to your wishes.
Equipment options
Toilets
Urinals (optional with urinal divider)
Washbasin with mirror, soap dispenser and paper towel dispenser
Lighting
Fresh water
Heating
Table of sizes

Shower containers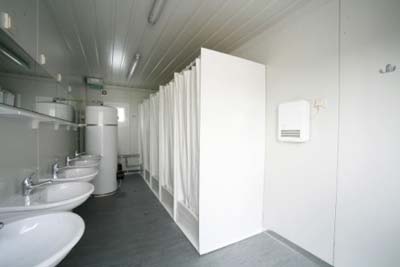 A shower container is a specially developed sanitary container in which the user can comply with his personal hygiene.
Equipment options
6 showers incl. shower curtain
2 washbasins with mirror
Lighting
Hot water tank (300 litres)
Fan heater
Table of sizes

Office containers / school containers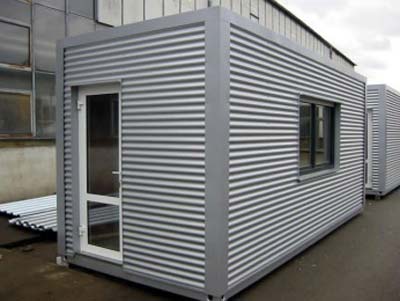 Office or recreation containers enable employees to work in a pleasant atmosphere regardless of the surrounding – for example on construction sites. Those comfortable facilities create a high-quality work area that can be completely equipped to meet your individual needs. In addition to used office containers and container systems, we also offer a large selection of new containers individually manufactured for your demands.
All school containers as well as the office containers are made of pollutant-free materials. They are heat-insulated, noise-canceled and – if desired – also available with a hard-wearing and low-maintenance floor covering.
We deliver these containers as pre-assembled room modules; the setup takes place on site by our assembly teams. However, a paved subfloor is a mandatory requirement on site (often, strip foundations are sufficient). Please note that our team requires a truck-mounted crane for installation, which needs additional space. Under normal conditions, unloading and setting up is a matter of max. 20 to 30 minutes per container. Afterwards, our setup team immediately starts the exterior and interior assembly work – the duration of this process depends on the size of the project (simple one-class room container: 3 to 4 hours). In the case of larger systems and/or complex internal assembly and external plastering work, we will inform you of the estimated assembly time.
Afterwards, you only have to assemble the external connections and install any IT and intercom systems – then you can start using your containers straight away!
Equipment options
Electrical equipment
Porch
Air conditioning
Security package
Mini kitchen
Furnishing
3-fold stackable
Table of sizes