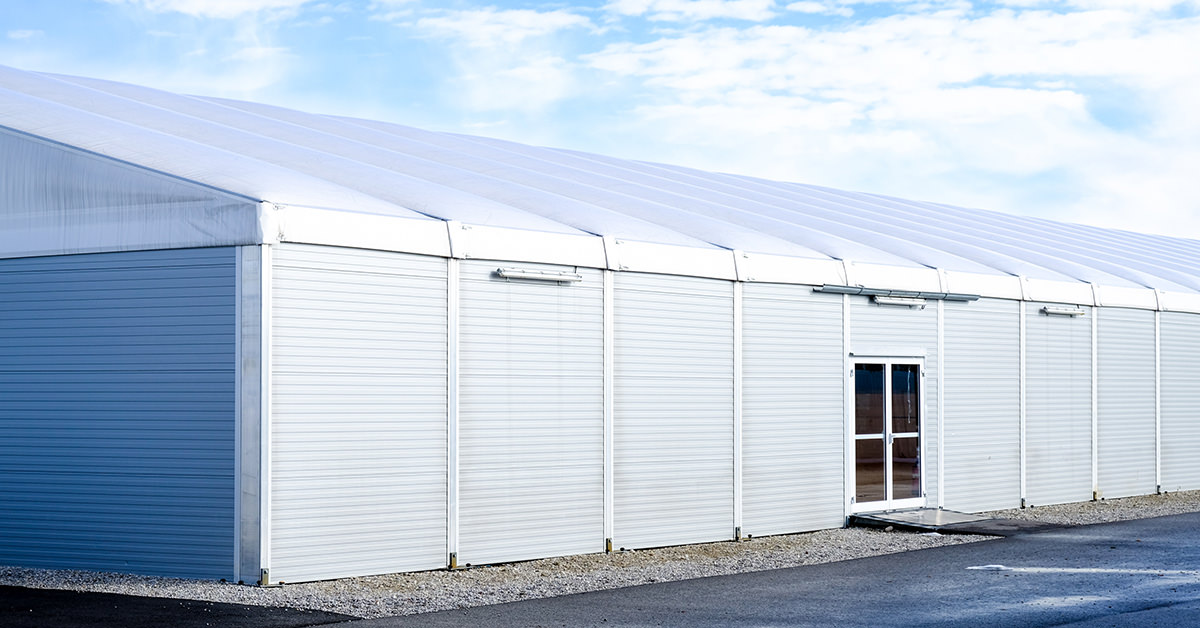 Our lightweight halls can be used in many different ways and therefore vary not only in size, equipment and setup, but also in financial aspects. Lightweight halls can be used as warehouses for industry and commerce, as production halls, depots, vehicle or machine halls.
Purpose
Lightweight halls are not only suitable for the short- or long-term storage of goods, materials or equipment, but can also be used for completely different purposes – for example as permanent production halls, sports halls or even check-in halls at airports.
Roof cladding material
Single-shell tarpaulin
Thermo tarpaulin
Trapezoidal sheet covering
Insulated sandwich covering
Side walls material:
PVC tarpaulin
Trapezoidal sheet cladding
Sandwich elements
Anchoring
Depending on the ground, tent halls are anchored with earth nails or heavy-duty dowels. A foundation is not absolutely necessary – tent halls can be mounted directly on compacted gravel, pavement or asphalt surfaces!
Equipment & Accessories
The extensive range of additional equipment includes roller shutters, light bands, smoke and heat exhaust systems, lighting, air conditioning, heating systems, staff doors and much more.
Permissions for temporary buildings (Germany)
Eine Leichtbauhalle gilt in Deutschland als sogenannter "Fliegender Bau" der keine klassische Baugenehmigung erfordert. Dennoch muss in einigen Fällen eine Ausführungsgenehmigung eingeholt werden, daher empfiehlt es sich, zwischen genehmigungsfreien und genehmigungspflichtigen Varianten zu unterscheiden:
Regulations vary from country to country. Please call us to obtain individual information for your project.
On the German market, storages tent are considered "flying constructions" and therefore do not require building permits. Only in some cases, an execution permit has to be obtained. Tents that are based on a stable construction and do not exceed a floor area of 75 m² may be set up without a building permit for three months. If a permit is obtained, they can be set up for up to 5 years. Tents bigger than 75 m², or based on an unstable ground, require an execution permit for the initial setup. The execution permit as well as the tent inspections are documented in a so-called tent book.
Custom-made solutions
Classic tent systems usually have a self-supporting width of 5 to 20 m and an eaves height of up to 6.20 m. Special constructions are of course available on request – they can offer increased snow/wind loads, eaves heights or different sizes.
Our TÜV-certified statics meet the requirements for the granting of a building permit in various areas (e.g. the North German Plain or coastal areas with wind zone 4). They are designed for long service lives in accordance with DIN EN 1991/DIN 1055.
Financing
Would you like to rent, lease or buy one of our solutions? We gladly advise you on any of these options and offer helpful insights based on our long-standing experience.